Indoor air quality has become an important area of focus now that Americans are spending more time than ever indoors; some sources claim up to 90% of our time is now spent inside. In fact, the Environmental Protection Agency has cited indoor air pollution as one of the top 5 growing concerns in America today. The Center for Disease Control has also identified indoor air quality as a major health concern and notes that we now have the highest rate of Asthma in recorded history.
One of the possible causes of the increasing rates of asthma and concern with indoor air pollution is actually the energy proofing of many homes and business. The process of making a building more energy efficient essentially traps polluted air indoors and recirculates it into the air we breathe. The solution is obviously not to stop making our indoor environments more energy efficient, but to be more proactive with the issue of improving indoor air quality in the first place. Rainaldi wants you to rest assured that there are many things that you can do to ensure that your families or teams are breathing safe air at home and work. We carry a complete line of electric filters, UV lights, dehumidifiers and more to help you breathe easier.
Contact us for more information on the products and services that we offer to improve the indoor air quality of your home or business.
Air Cleaners and Filtration
Many heating and cooling systems still utilize only basic air filters designed to protect the equipment. However, modern air cleaners can protect you and even improve your health and comfort by reducing allergic reactions to dust, pollen and even pet hair. Rainaldi has many options available to you.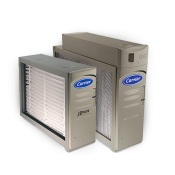 UV Germicidal Lamps
The U.S. Environmental Protection Agency has cited indoor air pollution as one of the top concerns in our country today. According to the American College of Allergists, 50% of illnesses (such as the flu, colds, asthma and allergies) are caused or aggravated by mold, mildew, bacteria and fungi.