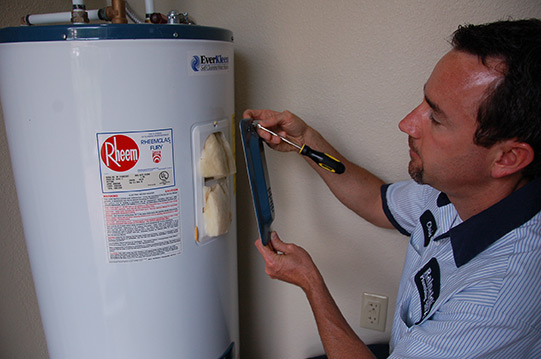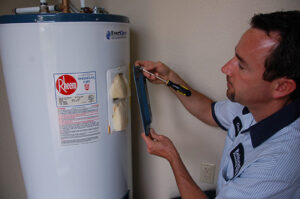 We know how frustrating and inconvenient it is to not have hot water when you need it.
If you are having trouble with your water heater, give us a call now. We will prioritize your service call and have your water heater fixed in no time. It's just another example of our commitment to providing you with same-day service!
We provide:
Water Heater Repair
Water Heater Installation
Water Heater Maintenance
Traditional Water Heaters
Tankless Water Heaters
Water heaters are a big consumer of energy in our Florida homes.
It's necessary to have your water heater maintained and serviced regularly so it can continue to run efficiently over time. If it has been a while since you had your water heater inspected, you should have it inspected to ensure it's working effectively and not experiencing issues that may require a full water heater replacement sooner than later. Even the highest quality hot water heaters have an estimated lifespan of 10-15 years. Continuing to use a water heater that is outdated or in need of serious repair will end up costing you more money on your energy bill. Our trained plumbers can inspect your water heater, provide a correct evaluation, and present you with options to best resolve your water heater issues.
Tankless water heaters for unlimited hot water.
Tankless water heaters utilize internal coils to heat water instead of using a storage tank. This allows for an essentially endless supply of hot water that the whole family can enjoy in your Orlando home. So whether you're first or last in line for a shower, you will be able to enjoy warm water when it's your turn.
Water heater repair and maintenance in the Orlando, Florida area.
Whether you need water heater repair, maintenance or installation, when you call Rainaldi Plumbing you will receive:
Trained and professional plumbers
Trucks stocked with plumbing equipment to help get the job done right
Same day emergency plumbing service in Orlando, FL
Orlando and Central Florida quality plumbing service since 1974
Contact us for water heater repair, maintenance, replacement or to learn more about which type of water heater would best meet your specific needs.
I have been using Rainaldi Plumbing for many years for my rental properties and I will never call anybody else. I can depend on them to go to my properties, find the problem, advise me, and fix the problem at an affordable price. They keep me informed every step of the way and they are neat and professional.
Joan
Tankless Water Heaters
Tankless water heaters are a space, energy and money saving option to heat the water in your Orlando, Florida home or business. They heat water on demand and only when you need it, saving you the added expense and energy of heating continuously. They also provide an unlimited source of hot water, saving you the time and hassle of running out when you need it most.
Traditional Water Heaters
Heating the water in your home makes up the bulk of your energy consumption and utility costs. At Rainaldi, we can help you choose the best solution for your home or business.
Flush & Fill Maintenance
Did you know that your water heater tank should be flushed every 12 months to rid of any sediment and bring it back to its original condition?