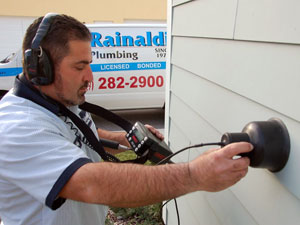 When it comes to leak detection in water pipes or sewage pipes, we immediately think of tearing off the wall or the floor from one end to the other. Today, with the advancement of technology, leak detection has become easier than ever. There's no need to break in to the concrete or the pipe structure to detect the leak in your Orlando home.
Rainaldi's electronic leak detection system offers a non-invasive way to detect the leak and get the repairs done immediately.
How does electronic leak detection work?
Rainaldi's leak detection system works on the theory of acoustics. The electronic leak detection machine can detect the sound waves produced from the leakage site. These frequencies vary from that produced by the non-leaking pipes. Also, different types of leakages produce different frequencies – leaks at higher pressure produce sounds with higher frequencies whereas those at lower frequencies produce sounds with lower frequencies. The material and the thickness of the pipe, as well as the nature of the fluid inside also may affect the frequency. A sensitive transducer receives the sounds from the pipe system and then sends them to an amplifier. Advanced leak detectors also display the information visually. An experienced Rainaldi plumbing technician then compares these sound frequencies and identifies the leaks immediately in the most accurate manner.
Why choose Rainaldi as your plumber in Orlando?
Professional electronic leak detection services for residential and industrial customers in Orlando
Skillful and accurate leak detection mechanism
On-the-spot leak identification
Guaranteed 'No-Scratch' leak detection
Electronic leak detection deals with leakages in
Water supply systems
Leaky pipes and toilets
Drains
Industrial pipe system
Steam pipes
Oil pipes
Other Fluid pipes
With the help of advanced leak detection services from professional Rainaldi plumbers in Orlando, you can save your valuable property from the damage caused due to water or drain leakage. This service has been a boon to Orlando residents as well as industrial customers.
Give us a call or schedule service online today. We are fully equipped with technology and manpower to serve you instantly as if in a mission critical operation.
The Rainaldi plumber helped locate our leak, fixed it fast and worked around our hectic schedule. Great customer service!
Chris