Water Heating Makes Up the Bulk of Your Energy Consumption and Utility Bills, Second Only to Heating and Cooling Your Entire Home.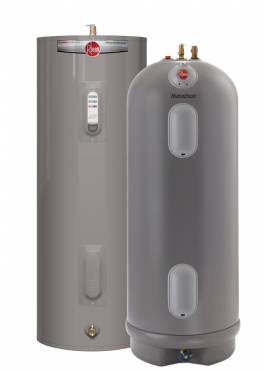 As homes become even more energy efficient, this percentage will only rise. Contact Rainaldi for help selecting the best, most efficient water heater for your needs.
Selecting a New Water Heater
There are a few things to keep in mind when shopping for a new storage water heater, including water capacity, cost and efficiency.
Capacity.
The size of your hot water heater should suit the number of people utilizing it and the peak hour water demand, the size of the house or business is not really relevant. The peak hour demand or first-hour rating (FHR) is the measure of how much hot water the water heater can produce in one hour. It is required by law that the FHR is printed on the Energy Guide Label, and you should never buy a water heater bigger than you need. You will only be paying for hot water that you don't need. Your Rainaldi Technician will perform a water capacity test to ensure you get the best size water heater for your needs.
Efficiency.
The energy efficiency of a storage water heater is indicated by the "Energy Factor" (EF) rating; EF rating equates to better energy efficiency. Gas water heaters will typically have an EF rating between 0.50 and 0.60, with some of the high-efficiency models around 0.80. It is important to keep these ratings in mind when choosing a new water heater.
Cost.
It can be tempting to choose the least expensive water heater without giving much thought to the operating costs of the unit. However, it is often the case that the least expensive water heaters are indeed the most expensive to operate. A high-efficiency water heater may cost a little more initially, but will more than make up for the higher cost with reduced utility bills in the future. Refer to the Energy Guide label to help choose an energy saving, utility conscious heater.
Contact us for more information on selecting a new water heater or for help with any of our other products or services.