Utilize Rainaldi's state-of-the-art video equipment and ensure that your sewer and water line repairs are done right the first time!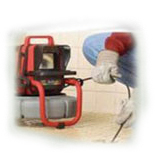 At Rainaldi, we are able to locate the trouble spot and visually confirm the cause of your problems by inserting our video equipment directly into the affected sewer line.  This tool is invaluable to quickly and accurately diagnosing your sewer problem and allows us to fix it at the source.  By running our camera down your sewer or water line we are able to determine whether sections of your pipe have lost grade, become overtaken by roots, have collapsed or become disjointed.  Essentially any problem can be identified and recorded so that a Rainaldi expert can diagnose and fix it
A Few Benefits of Video Inspection:
Details condition of drain lines
Pinpoints precise location of problem
Safe for all pipes
Verifies like-new condition of cleaned pipe
Contact us to find out more about video inspection or for help with any of your plumbing needs.