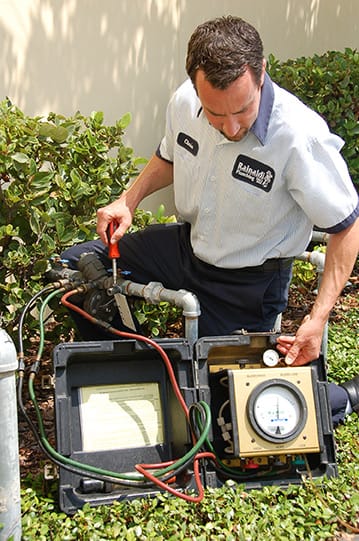 Backflow, or the unwanted reversal of water flow, can be a serious health risk and embarrassing inconvenience. Backflow must be addressed by a qualified technician as it can introduce hazardous contaminants like pesticides and other human waste into your potable water supply. Orlando and Central Florida's water supply is becoming a very precious commodity and needs to be protected today more than ever. Our local water departments are implementing new requirements for installing backflow prevention devices on water supply lines entering your Orlando home or business.
Installed backflow devices are required to be inspected and tested each year by a certified backflow tester. Rainaldi Plumbing is certified and specializes in the testing of backflow prevention devices of all sizes, brands and applications. The test is designed to ensure your device is working properly to protect both you and your family, as well as the public water supply from contaminated water.
I recently had a backflow preventer system installed. The plumber's work was seamless and neat. He even patiently explained the work that was completed & made me feel comfortable. If you need a backflow preventer installed Rainaldi is the company for you.
Gladys